This page is dedicated to all those who have completed a half marathon or full marathon. (last updated 07-May-2017)
We have recently updated how the list is displayed.
You can now sort, filter, and search the list to find your runner and determine records.
We will try to keep this list up-to-date but if we have missed anyone or anything is inaccurate, also, if you have any recommendations for improvements or if you have any questions,  please let us know by posting a comment or sending us an email and we will look into it.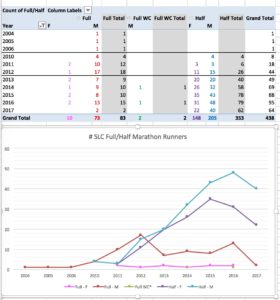 Type the following searches to get the record holders (Note: include the " and spaces in the searches):
Fastest Male Full Marathoners (Sort by Time then search):

" M " " Full  "

Fastest Female Full Marathoners (Sort by Time then search): " F " " Full  "
Fastest Male Half Marathoners (Sort by Time then search): 

" M " " Half "

Fastest Female Half Marathoners (Sort by Time then search): 

" F " " Half "

Male Most Full Marathons (Sort by # Times Ran then search): "" M " " Full "
Female Most Full Marathons (Sort by # Times Ran then search): " F " " Full  "
Male Most Half Marathons (Sort by # Times Ran then search): 

" M " " Half "

Female Most Half Marathons (Sort by # Times Ran then search): 

" F " " Half "

Oldest Male Full Marathoners (Sort by Age Group then search): " M " " Full "
Oldest Female Full Marathoners (Sort by Age Group then search): " F " " Full  "
Oldest Male Half Marathoners (Sort by Age Group then search): 

" M " " Half "

Oldest Female Half Marathoners (Sort by Age Group then search): 

" F " " Half "
Salt Lake City Half/Full Marathon Runners
| # | First Name | Last Name | Gender | Age Group | Year Ran | Full/Half | Time | # Times Ran |
| --- | --- | --- | --- | --- | --- | --- | --- | --- |
| 1 | Diana | Adams | F | 35-39 | 2014 | Half | 2:58:04 | 1 |
| 2 | Aaron | Andrews | M | 15-19 | 2011 | Half | 2:19:37 | 3 |
| 3 | Aaron | Andrews | M | 15-19 | 2012 | Half | 2:29:44 | 3 |
| 4 | Aaron | Andrews | M | 20-24 | 2015 | Half | 2:30:23 | 3 |
| 5 | Andrea | Andrews | F | 10-14 | 2016 | Half | 2:11:00 | 2 |
| 6 | Andrea | Andrews | F | 15-19 | 2017 | Half | 2:39:55 | 2 |
| 7 | Angela | Andrews | F | 10-14 | 2012 | Half | 2:01:17 | 4 |
| 8 | Angela | Andrews | F | 10-14 | 2013 | Half | 2:00:27 | 4 |
| 9 | Angela | Andrews | F | 15-19 | 2014 | Half | 2:08:51 | 4 |
| 10 | Angela | Andrews | F | 15-19 | 2015 | Half | 2:09:51 | 4 |
| 11 | Angela | Andrews | F | 15-19 | 2016 | Full | 6:47:07 | 1 |
| 12 | Benjamin | Andrews | M | 15-19 | 2012 | Full | 3:53:05 | 4 |
| 13 | Benjamin | Andrews | M | 15-19 | 2013 | Half | 1:47:38 | 2 |
| 14 | Benjamin | Andrews | M | 20-24 | 2014 | Full | 4:14:07 | 4 |
| 15 | Benjamin | Andrews | M | 20-24 | 2015 | Full | 4:24:20 | 4 |
| 16 | Benjamin | Andrews | M | 20-24 | 2016 | Full | 4:30:33 | 4 |
| 17 | Benjamin | Andrews | M | 20-24 | 2017 | Half | 1:49:54 | 2 |
| 18 | David | Andrews | M | 15-19 | 2013 | Half | 1:59:37 | 4 |
| 19 | David | Andrews | M | 15-19 | 2014 | Full | 4:44:09 | 1 |
| 20 | David | Andrews | M | 15-19 | 2015 | Half | 1:51:03 | 4 |
| 21 | David | Andrews | M | 15-19 | 2016 | Half | 1:46:34 | 4 |
| 22 | David | Andrews | M | 20-24 | 2017 | Half | 2:00:17 | 4 |
| 23 | Helen | Andrews | F | 10-14 | 2012 | Half | 2:38:40 | 3 |
| 24 | Helen | Andrews | F | 15-19 | 2013 | Half | 2:21:08 | 3 |
| 25 | Helen | Andrews | F | 15-19 | 2014 | Half | 2:37:08 | 3 |
| 26 | Helen | Andrews | F | 15-19 | 2015 | Full | 7:08:42 | 1 |
| 27 | James | Andrews | M | 10-14 | 2012 | Half | 1:56:42 | 6 |
| 28 | James | Andrews | M | 10-14 | 2013 | Half | 2:07:54 | 6 |
| 29 | James | Andrews | M | 10-14 | 2014 | Half | 1:50:20 | 6 |
| 30 | James | Andrews | M | 10-14 | 2015 | Half | 1:56:40 | 6 |
| 31 | James | Andrews | M | 15-19 | 2016 | Half | 1:50:20 | 6 |
| 32 | James | Andrews | M | 15-19 | 2017 | Half | 1:54:17 | 6 |
| 33 | Jeremy | Andrews | M | 20-24 | 2011 | Full | 4:51:20 | 1 |
| 34 | Jeremy | Andrews | M | 20-24 | 2012 | Half | 1:59:42 | 5 |
| 35 | Jeremy | Andrews | M | 20-24 | 2013 | Half | 2:00:44 | 5 |
| 36 | Jeremy | Andrews | M | 25-29 | 2014 | Half | 2:00:13 | 5 |
| 37 | Jeremy | Andrews | M | 25-29 | 2015 | Half | 2:06:10 | 5 |
| 38 | Jeremy | Andrews | M | 25-29 | 2016 | Half | 2:12:28 | 5 |
| 39 | Jolene | Andrews | F | 40-44 | 2012 | Half | 2:52:34 | 3 |
| 40 | Jolene | Andrews | F | 40-44 | 2014 | Half | 3:13:49 | 3 |
| 41 | Jolene | Andrews | F | 40-44 | 2015 | Half | 3:22:18 | 3 |
| 42 | Jolene | Andrews | F | 40-44 | 2016 | Full | 6:47:56 | 1 |
| 43 | Justin | Andrews | M | 20-24 | 2012 | Full | 4:04:17 | 1 |
| 44 | Justin | Andrews | M | 20-24 | 2013 | Half | 1:57:01 | 5 |
| 45 | Justin | Andrews | M | 20-24 | 2014 | Half | 2:06:05 | 5 |
| 46 | Justin | Andrews | M | 25-29 | 2015 | Half | 2:08:22 | 5 |
| 47 | Justin | Andrews | M | 25-29 | 2016 | Half | 2:14:03 | 5 |
| 48 | Justin | Andrews | M | 25-29 | 2017 | Half | 2:04:22 | 5 |
| 49 | Kimberly | Andrews | F | 10-14 | 2015 | Half | 2:22:37 | 3 |
| 50 | Kimberly | Andrews | F | 10-14 | 2016 | Half | 2:06:35 | 3 |
| 51 | Kimberly | Andrews | F | 10-14 | 2017 | Half | 2:08:31 | 3 |
| 52 | Mark | Andrews | M | 15-19 | 2010 | Half | 1:59:37 | 3 |
| 53 | Mark | Andrews | M | 20-24 | 2014 | Half | 2:55:06 | 3 |
| 54 | Mark | Andrews | M | 20-24 | 2016 | Half | 2:21:33 | 3 |
| 55 | Nate | Bailey | M | 15-19 | 2012 | Full | 4:13:44 | 3 |
| 56 | Nate | Bailey | M | 15-19 | 2013 | Full | 5:51:19 | 3 |
| 57 | Nate | Bailey | M | 15-19 | 2014 | Full | 4:14:07 | 3 |
| 58 | Nate | Bailey | M | 15-19 | 2015 | Half | 1:57:45 | 1 |
| 59 | Clairece | Brown | F | 25-29 | 2013 | Half | 2:20:32 | 1 |
| 60 | Justin | Brown | M | 10-14 | 2012 | Half | 2:21:13 | 2 |
| 61 | Justin | Brown | M | 15-19 | 2016 | Half | 2:00:39 | 2 |
| 62 | Nathan | Brown | M | 30-34 | 2010 | Half | 2:24:28 | 3 |
| 63 | Nathan | Brown | M | 30-34 | 2011 | Full | 5:33:19 | 1 |
| 64 | Nathan | Brown | M | 30-34 | 2012 | Half | 2:42:19 | 3 |
| 65 | Nathan | Brown | M | 35-39 | 2016 | Half | 2:23:06 | 3 |
| 66 | Shirley | Brown | F | 30-34 | 2012 | Half | 3:17:46 | 1 |
| 67 | Hope | Campbell | F | 15-18 | 2015 | Half | 2:26:37 | 1 |
| 68 | Isaac | Campbell | M | 15-19 | 2016 | Half | 2:17:17 | 1 |
| 69 | Jared | Cannon | M | 15-18 | 2015 | Full | 4:14:57 | 1 |
| 70 | Paul | Cannon | M | 15-19 | 2011 | Full | 3:50:21 | 3 |
| 71 | Paul | Cannon | M | 15-19 | 2012 | Full | 3:23:53 | 3 |
| 72 | Paul | Cannon | M | 20-24 | 2014 | Half | 1:38:50 | 1 |
| 73 | Paul | Cannon | M | 20-24 | 2016 | Full | 4:01:26 | 3 |
| 74 | Carolyn | Carlson | F | 15-18 | 2015 | Half | 3:17:22 | 2 |
| 75 | Carolyn | Carlson | F | 15-19 | 2016 | Half | 3:11:46 | 2 |
| 76 | Kelly | Carlson | F | 15-19 | 2015 | Half | 2:56:17 | 3 |
| 77 | Kelly | Carlson | F | 15-19 | 2016 | Half | 2:58:31 | 3 |
| 78 | Kelly | Carlson | F | 15-19 | 2017 | Half | 2:46:24 | 3 |
| 79 | Kristen | Carlson | F | 10-14 | 2015 | Half | 2:49:27 | 3 |
| 80 | Kristen | Carlson | F | 10-14 | 2016 | Half | 2:50:35 | 3 |
| 81 | Kristen | Carlson | F | 15-19 | 2017 | Half | 2:53:15 | 3 |
| 82 | Caleb | Chambers | M | 10-14 | 2014 | Half | 2:10:47 | 1 |
| 83 | Ryan | Chambers | M | 10-14 | 2014 | Half | 1:57:17 | 1 |
| 84 | Elaine | Crossley | F | 40-44 | 2015 | Half | 3:04:53 | 1 |
| 85 | Jesse | Crossley | M | 15-18 | 2015 | Half | 2:12:12 | 2 |
| 86 | Jesse | Crossley | M | 15-19 | 2016 | Half | 2:03:02 | 2 |
| 87 | Joseph | Crossley | M | 15-19 | 2014 | Half | 2:17:43 | 3 |
| 88 | Joseph | Crossley | M | 15-19 | 2015 | Half | 1:59:46 | 3 |
| 89 | Joseph | Crossley | M | 15-19 | 2016 | Half | 1:53:56 | 3 |
| 90 | Rebekah | Crossley | F | 15-19 | 2014 | Half | 2:21:50 | 1 |
| 91 | Ryan | Crossley | M | 10-14 | 2014 | Half | 2:05:28 | 3 |
| 92 | Ryan | Crossley | M | 10-14 | 2015 | Half | 1:50:14 | 3 |
| 93 | Ryan | Crossley | M | 10-14 | 2016 | Half | 1:58:19 | 3 |
| 94 | Shane | Crossley | M | 15-18 | 2015 | Half | 1:49:54 | 2 |
| 95 | Shane | Crossley | M | 15-19 | 2016 | Half | 1:41:37 | 2 |
| 96 | Vesta | Davis | F | 15-19 | 2014 | Half | 2:50:09 | 2 |
| 97 | Vesta | Davis | F | 15-19 | 2015 | Half | 2:46:31 | 2 |
| 98 | Hannah | Edwards | F | 15-18 | 2015 | Half | 2:40:26 | 1 |
| 99 | Samantha | Edwards | F | 19-24 | 2015 | Half | 2:54:15 | 1 |
| 100 | Cindy | England | F | 10-14 | 2015 | Half | 2:22:34 | 3 |
| 101 | Cindy | England | F | 10-14 | 2016 | Half | 2:11:09 | 3 |
| 102 | Cindy | England | F | 15-19 | 2017 | Half | 2:19:31 | 3 |
| 103 | Evelyn | England | F | 35-39 | 2014 | Half | 2:23:15 | 2 |
| 104 | Evelyn | England | F | 40-44 | 2016 | Half | 2:01:13 | 2 |
| 105 | Jesse | England | M | 10-14 | 2015 | Half | 1:58:13 | 3 |
| 106 | Jesse | England | M | 15-19 | 2016 | Half | 1:56:44 | 3 |
| 107 | Jesse | England | M | 15-19 | 2017 | Half | 1:56:09 | 3 |
| 108 | John | England | M | 15-19 | 2014 | Half | 1:39:57 | 4 |
| 109 | John | England | M | 15-19 | 2015 | Half | 1:48:05 | 4 |
| 110 | John | England | M | 15-19 | 2016 | Half | 1:42:15 | 4 |
| 111 | John | England | M | 15-19 | 2017 | Half | 1:37:46 | 4 |
| 112 | Nancy | England | F | 15-19 | 2014 | Half | 2:50:07 | 3 |
| 113 | Nancy | England | F | 15-19 | 2015 | Half | 2:50:30 | 3 |
| 114 | Nancy | England | F | 15-19 | 2016 | Half | 2:43:51 | 3 |
| 115 | Jessica | Evans | F | 15-19 | 2014 | Half | 2:52:15 | 1 |
| 116 | Karl | Evans | M | 15-19 | 2012 | Half | 2:18:42 | 3 |
| 117 | Karl | Evans | M | 20-24 | 2016 | Half | 2:07:44 | 3 |
| 118 | Karl | Evans | M | 20-24 | 2017 | Half | 1:58:07 | 3 |
| 119 | Katrina | Evans | F | 10-14 | 2014 | Half | 2:26:14 | 4 |
| 120 | Katrina | Evans | F | 10-14 | 2015 | Half | 2:23:29 | 4 |
| 121 | Katrina | Evans | F | 15-19 | 2016 | Half | 2:37:47 | 4 |
| 122 | Katrina | Evans | F | 15-19 | 2017 | Half | 2:56:37 | 4 |
| 123 | Kaylene | Evans | F | 15-19 | 2011 | Full | 5:03:20 | 1 |
| 124 | Kaylene | Evans | F | 20-24 | 2012 | Half | 2:24:40 | 3 |
| 125 | Kaylene | Evans | F | 20-24 | 2014 | Half | 2:21:44 | 3 |
| 126 | Kaylene | Evans | F | 20-24 | 2015 | Half | 2:14:05 | 3 |
| 127 | Kylie | Evans | F | 1-14 | 2017 | Half | 2:41:45 | 1 |
| 128 | Makell | Evans | F | 15-19 | 2014 | Half | 2:17:26 | 2 |
| 129 | Makell | Evans | F | 15-19 | 2015 | Half | 2:21:08 | 2 |
| 130 | Marie | Evans | F | 45-49 | 2016 | Half | 3:03:13 | 1 |
| 131 | William | Evans | M | 25-29 | 2017 | Half | 2:21:22 | 1 |
| 132 | Kimberly | Foster | F | 15-18 | 2015 | Half | 2:54:15 | 1 |
| 133 | Joshua | Gardner | M | 15-19 | 2012 | Full | 4:15:37 | 1 |
| 134 | Ray | Grant | M | 15-18 | 2015 | Half | 1:58:43 | 3 |
| 135 | Ray | Grant | M | 15-19 | 2016 | Half | 1:48:08 | 3 |
| 136 | Ray | Grant | M | 15-19 | 2017 | Half | 2:02:25 | 3 |
| 137 | Verl | Grant | M | 10-14 | 2016 | Half | 1:56:44 | 2 |
| 138 | Verl | Grant | M | 15-19 | 2017 | Half | 1:39:54 | 2 |
| 139 | Viktor | Grant | M | 10-14 | 2015 | Half | 2:08:11 | 3 |
| 140 | Viktor | Grant | M | 10-14 | 2016 | Half | 1:56:47 | 3 |
| 141 | Viktor | Grant | M | 10-14 | 2017 | Half | 1:44:40 | 3 |
| 142 | William | Grow | M | 25-29 | 2004 | Full | 3:48:04 | 3 |
| 143 | William | Grow | M | 25-29 | 2006 | Full | 3:42:51 | 3 |
| 144 | William | Grow | M | 35-39 | 2016 | Full | 6:34:36 | 3 |
| 145 | Timothy | Gustafson | M | 30-34 | 2012 | Full | 3:29:32 | 2 |
| 146 | Timothy | Gustafson | M | 35-39 | 2016 | Full | 3:27:07 | 2 |
| 147 | Timothy | Gustafson | M | 35-39 | 2017 | Half | 1:27:28 | 1 |
| 148 | Andrea | Hamilton | F | 35-39 | 2013 | Half | 3:29:23 | 1 |
| 149 | Catherine | Hamilton | F | 10-14 | 2013 | Half | 3:29:00 | 3 |
| 150 | Catherine | Hamilton | F | 15-19 | 2014 | Half | 3:13:47 | 3 |
| 151 | Catherine | Hamilton | F | 15-19 | 2015 | Half | 3:12:19 | 3 |
| 152 | Joseph | Hamilton | M | 10-14 | 2016 | Half | 2:03:01 | 2 |
| 153 | Joseph | Hamilton | M | 15-19 | 2017 | Half | 2:19:41 | 2 |
| 154 | Paul | Hamilton | M | 10-14 | 2014 | Half | 2:43:59 | 4 |
| 155 | Paul | Hamilton | M | 15-19 | 2015 | Half | 2:23:12 | 4 |
| 156 | Paul | Hamilton | M | 15-19 | 2016 | Half | 2:50:59 | 4 |
| 157 | Paul | Hamilton | M | 15-19 | 2017 | Half | 2:19:41 | 4 |
| 158 | Rachel | Hamilton | F | 15-19 | 2013 | Half | 3:02:44 | 1 |
| 159 | Mark | Hardy | M | 20-24 | 2017 | Half | 1:50:52 | 1 |
| 160 | Andrew | Harrison | M | 15-19 | 2016 | Half | 2:08:52 | 1 |
| 161 | Timothy | Harrison | M | 15-18 | 2015 | Half | 1:59:57 | 2 |
| 162 | Timothy | Harrison | M | 15-19 | 2016 | Half | 1:57:35 | 2 |
| 163 | William | Harrison | M | 15-19 | 2014 | Half | 2:26:04 | 2 |
| 164 | William | Harrison | M | 15-19 | 2015 | Half | 2:06:51 | 2 |
| 165 | William | Harrison | M | 20-24 | 2016 | Full | 4:51:46 | 1 |
| 166 | Bill | Hughes | M | 19-24 | 2015 | Half | 3:03:41 | 1 |
| 167 | Carrie | Hughes | F | 40-44 | 2015 | Half | 2:58:58 | 1 |
| 168 | Janie | Hughes | F | 10-14 | 2015 | Half | 2:57:50 | 2 |
| 169 | Janie | Hughes | F | 15-19 | 2017 | Half | 2:13:53 | 2 |
| 170 | Jessica | Hughes | F | 15-19 | 2013 | Half | 2:07:50 | 1 |
| 171 | Benjamin | Hull | M | 20-24 | 2017 | Full | 4:10:25 | 1 |
| 172 | Brittney | Hull | F | 10-14 | 2014 | Half | 2:30:08 | 1 |
| 173 | Michelle | Hull | F | 10-14 | 2014 | Half | 2:52:16 | 1 |
| 174 | Steven | Hull | M | 10-14 | 2014 | Half | 2:05:45 | 2 |
| 175 | Steven | Hull | M | 15-19 | 2017 | Half | 1:55:26 | 2 |
| 176 | Jacob | Isaacson | M | 25-29 | 2012 | Full | 6:12:06 | 1 |
| 177 | Katharine | Jacobs | F | 35-39 | 2012 | Half | 3:31:40 | 1 |
| 178 | Lily | Jacobs | F | 15-18 | 2015 | Half | 2:43:50 | 2 |
| 179 | Lily | Jacobs | F | 15-19 | 2016 | Half | 2:58:34 | 2 |
| 180 | Mary | Jacobs | F | 15-19 | 2013 | Full | 5:51:18 | 1 |
| 181 | Charles | Johnson | M | 1-14 | 2016 | Half | 2:05:51 | 1 |
| 182 | Darren | Johnson | M | 25-29 | 2012 | Full | 5:04:42 | 1 |
| 183 | David | Johnson | M | 15-19 | 2010 | Full | 4:50:04 | 2 |
| 184 | David | Johnson | M | 15-19 | 2012 | Full | 4:18:31 | 2 |
| 185 | Elden | Johnson | M | 15-19 | 2016 | Half | 1:48:10 | 1 |
| 186 | Jerry Sr | Johnson | M | 51-54 | 2016 | Half | 3:04:31 | 1 |
| 187 | Jesse | Johnson | M | 10-14 | 2014 | Half | 2:12:45 | 2 |
| 188 | Jesse | Johnson | M | 10-14 | 2015 | Half | 1:55:54 | 2 |
| 189 | Kent Jr. | Johnson | M | 20-24 | 2012 | Half | 2:38:44 | 2 |
| 190 | Kent Jr. | Johnson | M | 20-24 | 2013 | Full | 3:58:11 | 2 |
| 191 | Kent Jr. | Johnson | M | 25-29 | 2015 | Full | 4:28:32 | 2 |
| 192 | Kent Jr. | Johnson | M | 25-29 | 2017 | Half | 1:47:25 | 2 |
| 193 | Kent Sr. | Johnson | M | 45-49 | 2012 | Half | 2:31:36 | 5 |
| 194 | Kent Sr. | Johnson | M | 51-54 | 2014 | Half | 2:12:52 | 5 |
| 195 | Kent Sr. | Johnson | M | 51-54 | 2015 | Half | 2:07:22 | 5 |
| 196 | Kent Sr. | Johnson | M | 51-54 | 2016 | Half | 1:58:20 | 5 |
| 197 | Kent Sr. | Johnson | M | 51-54 | 2017 | Half | 1:55:11 | 5 |
| 198 | Matthew | Johnson | M | 15-19 | 2014 | Half | 1:48:17 | 2 |
| 199 | Matthew | Johnson | M | 15-19 | 2015 | Half | 1:55:22 | 2 |
| 200 | Shem | Johnson | M | 19-24 | 2015 | Half | 2:03:29 | 2 |
| 201 | Shem | Johnson | M | 20-24 | 2016 | Half | 2:04:45 | 2 |
| 202 | Susan | Johnson | F | 25-29 | 2013 | Half | 2:43:49 | 2 |
| 203 | Susan | Johnson | F | 25-29 | 2015 | Half | 2:38:55 | 2 |
| 204 | Verl | Johnson | M | 40-44 | 2010 | Full | 5:07:30 | 3 |
| 205 | Verl | Johnson | M | 45-49 | 2015 | Full | 5:29:01 | 3 |
| 206 | Verl | Johnson | M | 45-49 | 2016 | Full | 5:55:20 | 3 |
| 207 | Verl | Johnson | M | 51-54 | 2017 | Half | 2:28:36 | 1 |
| 208 | Avery | Jones | F | 15-19 | 2015 | Half | 2:02:50 | 2 |
| 209 | Avery | Jones | F | 15-19 | 2016 | Half | 2:05:15 | 2 |
| 210 | Luke | Jones | M | 1-14 | 2017 | Half | 2:04:27 | 1 |
| 212 | Nathan | Kennedy | M | 25-29 | 2016 | Half | 2:50:32 | 1 |
| 213 | Brandon | Kingston | M | 15-19 | 2016 | Half | 1:49:14 | 1 |
| 214 | Daniel Jr. | Kingston | M | 35-39 | 2011 | Full | 7:11:30 | 4 |
| 215 | Daniel Jr. | Kingston | M | 35-39 | 2012 | Full | 5:36:04 | 4 |
| 216 | Daniel Jr. | Kingston | M | 35-39 | 2013 | Full | 5:16:41 | 4 |
| 217 | Daniel Jr. | Kingston | M | 35-39 | 2014 | Full | 5:09:34 | 4 |
| 218 | Deborah | Kingston | F | 25-29 | 2016 | Half | 3:15:01 | 1 |
| 219 | Derek | Kingston | M | 15-19 | 2012 | Half | 2:22:13 | 3 |
| 220 | Derek | Kingston | M | 15-19 | 2013 | Half | 2:13:48 | 3 |
| 221 | Derek | Kingston | M | 15-19 | 2014 | Half | 2:41:51 | 3 |
| 222 | Elden O. | Kingston | M | 20-24 | 2010 | Full | 3:56:29 | 7 |
| 223 | Elden O. | Kingston | M | 20-24 | 2011 | Full | 3:47:06 | 7 |
| 224 | Elden O. | Kingston | M | 25-29 | 2012 | Full | 3:21:05 | 7 |
| 225 | Elden O. | Kingston | M | 25-29 | 2013 | Full | 3:25:43 | 7 |
| 226 | Elden O. | Kingston | M | 25-29 | 2014 | Full | 3:29:19 | 7 |
| 227 | Elden O. | Kingston | M | 25-29 | 2015 | Full | 4:53:15 | 7 |
| 228 | Elden O. | Kingston | M | 25-29 | 2016 | Full | 3:22:16 | 7 |
| 229 | Elizabeth | Kingston | F | 20-24 | 2016 | Half | 3:15:58 | 1 |
| 230 | Heather | Kingston | F | 25-29 | 2013 | Half | 2:31:38 | 1 |
| 231 | Heather | Kingston | F | 25-29 | 2015 | Full | 4:53:13 | 1 |
| 232 | Isaiah | Kingston | M | 35-39 | 2017 | Half | 2:24:32 | 1 |
| 233 | J. Isaac | Kingston | M | 25-29 | 2012 | Half | 2:44:46 | 4 |
| 234 | J. Isaac | Kingston | M | 25-29 | 2013 | Half | 2:45:50 | 4 |
| 235 | J. Isaac | Kingston | M | 25-29 | 2014 | Half | 2:55:03 | 4 |
| 236 | J. Isaac | Kingston | M | 30-34 | 2015 | Half | 3:01:10 | 4 |
| 237 | J. Michael | Kingston | M | 20-24 | 2010 | Half | 1:59:45 | 4 |
| 238 | J. Michael | Kingston | M | 20-24 | 2011 | Full | 4:39:25 | 3 |
| 239 | J. Michael | Kingston | M | 20-24 | 2012 | Half | 1:57:25 | 4 |
| 240 | J. Michael | Kingston | M | 25-29 | 2013 | Full | 4:12:11 | 3 |
| 241 | J. Michael | Kingston | M | 25-29 | 2014 | Half | 1:46:02 | 4 |
| 242 | J. Michael | Kingston | M | 25-29 | 2015 | Full | 3:59:14 | 3 |
| 243 | J. Michael | Kingston | M | 25-29 | 2016 | Half | 1:43:45 | 4 |
| 244 | Jacob | Kingston | M | 25-29 | 2005 | Full | 6:19:09 | 1 |
| 245 | James P. | Kingston | M | UNKOWN | 2015 | Half | 1:55:09 | 1 |
| 246 | Janice | Kingston | F | 45-49 | 2013 | Half | 3:23:51 | 5 |
| 247 | Janice | Kingston | F | 45-49 | 2014 | Half | 3:18:59 | 5 |
| 248 | Janice | Kingston | F | 45-49 | 2015 | Half | 3:34:03 | 5 |
| 249 | Janice | Kingston | F | 45-49 | 2016 | Half | 3:55:59 | 5 |
| 250 | Janice | Kingston | F | 45-49 | 2017 | Half | 3:47:15 | 5 |
| 251 | Jesse O. | Kingston | M | 40-44 | 2012 | Half | 1:56:42 | 5 |
| 252 | Jesse O. | Kingston | M | 45-49 | 2013 | Half | 1:58:55 | 5 |
| 253 | Jesse O. | Kingston | M | 45-49 | 2014 | Half | 1:55:03 | 5 |
| 254 | Jesse O. | Kingston | M | 45-49 | 2015 | Half | 1:56:41 | 5 |
| 255 | Jesse O. | Kingston | M | 45-49 | 2016 | Full | 4:27:36 | 1 |
| 256 | Jesse O. | Kingston | M | 45-49 | 2017 | Half | 1:54:18 | 5 |
| 257 | Jessica | Kingston | F | 10-14 | 2011 | Half | 2:44:05 | 4 |
| 258 | Jessica | Kingston | F | 10-14 | 2012 | Half | 2:28:23 | 4 |
| 259 | Jessica | Kingston | F | 10-14 | 2013 | Half | 2:28:40 | 4 |
| 260 | Jessica | Kingston | F | 15-19 | 2014 | Half | 2:42:32 | 4 |
| 261 | JoAnna | Kingston | F | 15-19 | 2016 | Half | 2:50:39 | 2 |
| 262 | JoAnna | Kingston | F | 15-19 | 2017 | Half | 2:45:19 | 2 |
| 263 | Job | Kingston | M | 30-34 | 2014 | Full | 5:49:58 | 1 |
| 264 | Joseph O. | Kingston | M | 15-18 | 2015 | Half | 1:51:31 | 1 |
| 265 | Joshua | Kingston | M | 30-34 | 2011 | Full | 4:53:41 | 2 |
| 266 | Joshua | Kingston | M | 30-34 | 2012 | Full | 5:05:12 | 2 |
| 267 | Joshua | Kingston | M | 30-34 | 2014 | Half | 2:18:22 | 3 |
| 268 | Joshua | Kingston | M | 35-39 | 2015 | Half | 2:16:48 | 3 |
| 269 | Joshua | Kingston | M | 35-39 | 2017 | Half | 2:37:50 | 3 |
| 270 | Matthew | Kingston | M | 25-29 | 2014 | Half | 2:10:05 | 2 |
| 271 | Matthew | Kingston | M | 25-29 | 2015 | Half | 2:19:50 | 2 |
| 272 | Meredith | Kingston | F | 15-19 | 2015 | Half | 3:06:16 | 1 |
| 273 | Micah | Kingston | M | 30-34 | 2016 | Half | 2:43:17 | 2 |
| 274 | Micah | Kingston | M | 35-39 | 2017 | Half | 2:39:23 | 2 |
| 275 | Michael R. | Kingston | M | 19-24 | 2015 | Half | 3:05:08 | 2 |
| 276 | Michael R. | Kingston | M | 20-24 | 2016 | Half | 3:10:47 | 2 |
| 277 | Noah | Kingston | M | 1-14 | 2017 | Half | 2:13:52 | 1 |
| 278 | Paul E. | Kingston | M | 51-54 | 2014 | Half | 2:20:07 | 2 |
| 279 | Paul E. | Kingston | M | 55-59 | 2015 | Half | 2:36:03 | 2 |
| 280 | Sarah | Kingston | F | 15-19 | 2013 | Half | 2:00:17 | 1 |
| 281 | Solomon | Kingston | M | 15-19 | 2011 | Full | 4:34:51 | 4 |
| 282 | Solomon | Kingston | M | 20-24 | 2012 | Full | 4:08:37 | 4 |
| 283 | Solomon | Kingston | M | 20-24 | 2013 | Full | 4:07:39 | 4 |
| 284 | Solomon | Kingston | M | 20-24 | 2015 | Full | 4:17:50 | 4 |
| 285 | Thomas | Kingston | M | 10-14 | 2011 | Half | 2:13:37 | 1 |
| 286 | Tom | Kingston | M | 15-19 | 2012 | Full | 5:17:11 | 1 |
| 287 | Tom | Kingston | M | 15-19 | 2013 | Half | 2:01:34 | 5 |
| 288 | Tom | Kingston | M | 15-19 | 2014 | Half | 2:17:39 | 5 |
| 289 | Tom | Kingston | M | 15-19 | 2015 | Half | 2:23:20 | 5 |
| 290 | Tom | Kingston | M | 15-19 | 2016 | Half | 2:24:37 | 5 |
| 291 | Tom | Kingston | M | 20-24 | 2017 | Half | 2:13:53 | 5 |
| 292 | William | Kingston | M | 25-29 | 2014 | Half | 2:33:06 | 1 |
| 293 | Elizabeth | Knight | F | 15-19 | 2017 | Half | 2:23:24 | 1 |
| 294 | Kim | Knighton | F | 15-19 | 2017 | Half | 3:25:32 | 1 |
| 295 | Sam | Knighton | M | 15-19 | 2017 | Half | 3:25:33 | 1 |
| 296 | Alaina | Lake | F | 19-24 | 2015 | Half | 3:07:03 | 1 |
| 297 | Alma | Lancaster | M | 10-14 | 2013 | Half | 1:53:46 | 5 |
| 298 | Alma | Lancaster | M | 15-19 | 2014 | Half | 1:57:35 | 5 |
| 299 | Alma | Lancaster | M | 15-19 | 2015 | Half | 1:48:05 | 5 |
| 300 | Alma | Lancaster | M | 15-19 | 2016 | Half | 1:46:37 | 5 |
| 301 | Alma | Lancaster | M | 15-19 | 2017 | Half | 2:21:11 | 5 |
| 302 | Emily | Lancaster | F | 15-19 | 2011 | Half | 2:44:10 | 1 |
| 303 | Emily | Lancaster | F | 15-19 | 2012 | Full | 6:00:20 | 1 |
| 304 | Joe | Lancaster | M | 15-19 | 2012 | Full | 5:06:48 | 1 |
| 305 | Joseph | Lancaster | M | 15-19 | 2011 | Half | 2:12:33 | 1 |
| 306 | Kent | Lancaster | M | 10-14 | 2015 | Half | 1:56:08 | 3 |
| 307 | Kent | Lancaster | M | 15-19 | 2016 | Half | 1:47:43 | 3 |
| 308 | Kent | Lancaster | M | 15-19 | 2017 | Half | 1:49:10 | 3 |
| 309 | Samantha | Lancaster | F | 10-14 | 2011 | Half | 2:19:43 | 4 |
| 310 | Samantha | Lancaster | F | 10-14 | 2012 | Half | 1:56:26 | 4 |
| 311 | Samantha | Lancaster | F | 15-19 | 2013 | Half | 2:07:59 | 4 |
| 312 | Samantha | Lancaster | F | 15-19 | 2014 | Half | 2:15:15 | 4 |
| 313 | Jamie | Livingston | F | 15-19 | 2016 | Half | 2:59:09 | 2 |
| 314 | Jamie | Livingston | F | 15-19 | 2017 | Half | 2:59:29 | 2 |
| 315 | Solomon | Livingston | M | 10-14 | 2013 | Half | 2:23:50 | 2 |
| 316 | Solomon | Livingston | M | 15-19 | 2016 | Half | 2:14:52 | 2 |
| 317 | Anna | Mathews | F | 15-19 | 2015 | Half | 2:25:43 | 2 |
| 318 | Anna | Mathews | F | 15-19 | 2017 | Half | 2:54:52 | 2 |
| 319 | Elizabeth | Mathews | F | 15-19 | 2014 | Half | 2:46:48 | 3 |
| 320 | Elizabeth | Mathews | F | 15-19 | 2015 | Half | 2:19:34 | 3 |
| 321 | Elizabeth | Mathews | F | 15-19 | 2016 | Half | 2:15:21 | 3 |
| 322 | Eric | Mathews | M | 25-29 | 2015 | Half | 2:48:17 | 2 |
| 323 | Eric | Mathews | M | 25-29 | 2016 | Half | 4:04:09 | 2 |
| 324 | John | Mathews | M | 20-24 | 2014 | Half | 2:06:04 | 4 |
| 325 | John | Mathews | M | 25-29 | 2015 | Half | 2:04:23 | 4 |
| 326 | John | Mathews | M | 25-29 | 2016 | Half | 2:05:02 | 4 |
| 327 | John | Mathews | M | 25-29 | 2017 | Half | 2:08:03 | 4 |
| 328 | Joshua | Mathews | M | 10-14 | 2014 | Half | 1:53:57 | 4 |
| 329 | Joshua | Mathews | M | 15-19 | 2015 | Half | 1:57:42 | 4 |
| 330 | Joshua | Mathews | M | 15-19 | 2016 | Half | 1:53:26 | 4 |
| 331 | Joshua | Mathews | M | 15-19 | 2017 | Half | 1:47:47 | 4 |
| 332 | Orlean | Mathews | F | 40-44 | 2014 | Half | 3:29:21 | 4 |
| 333 | Orlean | Mathews | F | 45-49 | 2015 | Half | 3:24:52 | 4 |
| 334 | Orlean | Mathews | F | 45-49 | 2016 | Half | 4:04:07 | 4 |
| 335 | Orlean | Mathews | F | 45-49 | 2017 | Half | 3:28:10 | 4 |
| 336 | Jan | McCarthy | F | 30-34 | 2014 | Half | 2:58:11 | 2 |
| 337 | Jan | McCarthy | F | 30-34 | 2016 | Half | 2:49:18 | 2 |
| 338 | Roselee | McKenna | F | 35-39 | 2017 | Half | 3:33:30 | 1 |
| 339 | William | McKenna | M | 15-19 | 2017 | Half | 1:54:17 | 1 |
| 340 | D. Shaun | McKenzie | M | 15-19 | 2013 | Half | 1:57:23 | 1 |
| 341 | Andrea | Michaels | F | 15-19 | 2013 | Half | 2:25:22 | 1 |
| 342 | Charles | Michaels | M | 15-19 | 2014 | Half | 2:06:38 | 3 |
| 343 | Charles | Michaels | M | 15-19 | 2015 | Half | 2:08:13 | 3 |
| 344 | Charles | Michaels | M | 15-19 | 2016 | Half | 1:58:01 | 3 |
| 345 | Elden | Michaels | M | 15-19 | 2013 | Half | 1:53:44 | 4 |
| 346 | Elden | Michaels | M | 15-19 | 2014 | Full | 5:06:32 | 1 |
| 347 | Elden | Michaels | M | 15-19 | 2015 | Half | 2:11:52 | 4 |
| 348 | Elden | Michaels | M | 15-19 | 2016 | Half | 1:58:03 | 4 |
| 349 | Elden | Michaels | M | 15-19 | 2017 | Half | 2:27:40 | 4 |
| 350 | Jesse | Michaels | M | 15-19 | 2013 | Half | 1:53:51 | 2 |
| 351 | Jesse | Michaels | M | 15-19 | 2014 | Full | 5:06:42 | 1 |
| 352 | Jesse | Michaels | M | 15-19 | 2015 | Half | 2:33:11 | 2 |
| 353 | John | Michaels | M | 1-14 | 2016 | Half | 2:54:36 | 2 |
| 354 | John | Michaels | M | 1-14 | 2017 | Half | 2:27:40 | 2 |
| 355 | Michelle R. | Michaels | F | 10-14 | 2015 | Half | 3:07:41 | 3 |
| 356 | Michelle R. | Michaels | F | 15-19 | 2016 | Half | 2:54:36 | 3 |
| 357 | Michelle R. | Michaels | F | 15-19 | 2017 | Half | 3:26:33 | 3 |
| 358 | Andrew | Mitchell | M | 20-24 | 2016 | Half | 1:54:54 | 1 |
| 359 | Isabell | Newman | F | 10-14 | 2014 | Half | 2:30:08 | 1 |
| 360 | Joellen | Newman | F | 1-14 | 2017 | Half | 2:41:44 | 1 |
| 361 | Penny | Newman | F | 10-14 | 2015 | Half | 2:23:29 | 2 |
| 362 | Penny | Newman | F | 10-14 | 2016 | Half | 2:20:28 | 2 |
| 363 | Priscilla | Newman | F | 10-14 | 2014 | Half | 2:17:29 | 4 |
| 364 | Priscilla | Newman | F | 10-14 | 2015 | Half | 2:13:34 | 4 |
| 365 | Priscilla | Newman | F | 15-19 | 2016 | Half | 2:39:55 | 4 |
| 366 | Priscilla | Newman | F | 15-19 | 2017 | Half | 2:56:38 | 4 |
| 367 | Victor | O'Brien | M | 30-34 | 2014 | Full * | 3:13:47 | 2 |
| 368 | Victor | O'Brien | M | 35-39 | 2016 | Full * | 2:02:32 | 2 |
| 369 | Bryan | Owen | M | 55-59 | 2015 | Half | 2:50:26 | 3 |
| 370 | Bryan | Owen | M | 55-59 | 2016 | Half | 2:48:17 | 3 |
| 371 | Bryan | Owen | M | 55-59 | 2017 | Half | 3:20:32 | 3 |
| 372 | Hannah | Owen | F | 35-39 | 2014 | Half | 2:35:51 | 4 |
| 373 | Hannah | Owen | F | 35-39 | 2015 | Half | 2:32:24 | 4 |
| 374 | Hannah | Owen | F | 40-44 | 2016 | Half | 2:44:09 | 4 |
| 375 | Hannah | Owen | F | 40-44 | 2017 | Half | 2:30:29 | 4 |
| 376 | Jack | Owen | F | 15-19 | 2016 | Half | 1:55:12 | 1 |
| 377 | Katie | Owen | F | 15-19 | 2016 | Half | 2:30:57 | 1 |
| 378 | Lucy | Owen | F | 15-19 | 2014 | Half | 2:31:05 | 4 |
| 379 | Lucy | Owen | F | 15-19 | 2015 | Half | 2:27:50 | 4 |
| 380 | Lucy | Owen | F | 15-19 | 2016 | Half | 2:20:13 | 4 |
| 381 | Lucy | Owen | F | 15-19 | 2017 | Half | 2:27:42 | 4 |
| 382 | Wendy | Parker | F | 40-44 | 2015 | Half | 2:57:30 | 1 |
| 383 | Shem | Peterson | M | 35-39 | 2012 | Half | 1:41:31 | 1 |
| 384 | John | Pratt | M | 15-18 | 2015 | Full | 5:23:52 | 2 |
| 385 | John | Pratt | M | 15-19 | 2016 | Full | 5:32:47 | 2 |
| 386 | John | Pratt | M | 15-19 | 2017 | Half | 2:24:24 | 1 |
| 387 | Samantha | Price | F | 20-24 | 2016 | Half | 3:03:05 | 1 |
| 388 | Allison | Reynolds | F | 15-19 | 2016 | Half | 2:06:34 | 2 |
| 389 | Allison | Reynolds | F | 15-19 | 2017 | Half | 1:57:11 | 2 |
| 390 | Hyrum | Smith | M | 15-19 | 2014 | Half | 1:40:56 | 3 |
| 391 | Hyrum | Smith | M | 15-19 | 2015 | Half | 1:41:31 | 3 |
| 392 | Hyrum | Smith | M | 20-24 | 2017 | Half | 1:40:22 | 3 |
| 393 | Isaac | Smith | M | 15-19 | 2014 | Half | 2:15:52 | 2 |
| 394 | Isaac | Smith | M | 15-19 | 2015 | Half | 2:07:25 | 2 |
| 395 | Isaac | Smith | M | 15-19 | 2017 | Full | 5:26:42 | 1 |
| 396 | Verl | Smith | M | 10-14 | 2014 | Half | 2:26:28 | 1 |
| 397 | Jacob | Stowell | M | 1-14 | 2017 | Half | 2:59:43 | 1 |
| 398 | Stuart | Stowell | M | 30-34 | 2016 | Half | 2:37:13 | 1 |
| 399 | Daniel | West | M | 10-14 | 2013 | Half | 1:55:19 | 1 |
| 400 | Rachel | West | F | 10-14 | 2013 | Half | 3:08:44 | 1 |
| 401 | Roselynde | White | F | 30-34 | 2016 | Half | 2:45:11 | 1 |
| 402 | Joshua | Williams | M | 20-24 | 2016 | Half | 2:48:54 | 1 |
| 403 | Phillip | Williams | M | 15-19 | 2016 | Half | 2:13:05 | 1 |
| 404 | Andrew | Winters | M | 20-24 | 2017 | Half | 2:06:59 | 1 |
| 405 | David | Young | M | 10-14 | 2012 | Half | 2:14:55 | 4 |
| 406 | David | Young | M | 10-14 | 2013 | Half | 2:17:08 | 4 |
| 407 | David | Young | M | 10-14 | 2015 | Half | 2:11:55 | 4 |
| 408 | David | Young | M | 15-19 | 2016 | Half | 1:58:56 | 4 |
| 409 | Gary | Young | M | 30-34 | 2013 | Half | 1:53:22 | 1 |
| 410 | Hannah | Young | F | 20-24 | 2011 | Full | 5:22:05 | 2 |
| 411 | Hannah | Young | F | 25-29 | 2013 | Full | 4:45:28 | 2 |
| 412 | Holly | Young | F | 25-29 | 2012 | Half | 2:49:08 | 1 |
| 413 | Jacob | Young | M | 15-19 | 2016 | Full | 4:53:53 | 1 |
| 414 | Jacob | Young | M | 15-19 | 2013 | Half | 1:54:24 | 1 |
| 415 | James | Young | M | 25-29 | 2010 | Full | 5:40:03 | 2 |
| 416 | James | Young | M | 30-34 | 2011 | Full | 5:33:17 | 2 |
| 417 | James | Young | M | 30-34 | 2012 | Half | 2:40:10 | 2 |
| 418 | James | Young | M | 30-34 | 2013 | Half | 2:49:40 | 2 |
| 419 | Jesse | Young | M | 20-24 | 2012 | Full | 4:47:03 | 2 |
| 420 | Jesse | Young | M | 20-24 | 2016 | Full | 4:49:14 | 2 |
| 421 | Jessica | Young | F | 30-34 | 2013 | Half | 2:49:39 | 2 |
| 422 | Jessica | Young | F | 30-34 | 2016 | Half | 2:46:34 | 2 |
| 423 | John | Young | M | 15-19 | 2012 | Full | 4:14:31 | 3 |
| 424 | John | Young | M | 20-24 | 2014 | Full | 4:01:56 | 3 |
| 425 | John | Young | M | 20-24 | 2016 | Full | 4:22:26 | 3 |
| 426 | Justin O. | Young | M | 25-29 | 2010 | Half | 2:15:47 | 1 |
| 427 | Justin O. | Young | M | 25-29 | 2011 | Full | 4:32:22 | 3 |
| 428 | Justin O. | Young | M | 25-29 | 2013 | Full | 4:05:51 | 3 |
| 429 | Justin O. | Young | M | 30-34 | 2016 | Full | 4:22:26 | 3 |
| 430 | Katherine | Young | F | 20-24 | 2014 | Half | 3:07:57 | 1 |
| 431 | Nancy | Young | F | 30-34 | 2013 | Half | 2:12:19 | 1 |
| 432 | Nicholas | Young | M | 30-34 | 2013 | Half | 2:19:44 | 1 |
| 433 | Rachel | Young | F | 51-54 | 2012 | Half | 3:03:58 | 2 |
| 434 | Rachel | Young | F | 51-54 | 2013 | Half | 2:46:42 | 2 |
| 435 | Rachel C. | Young | F | 10-14 | 2013 | Half | 2:12:19 | 1 |
| 436 | Rose | Young | F | 10-14 | 2012 | Half | 2:23:09 | 2 |
| 437 | Rose | Young | F | 15-19 | 2013 | Half | 2:05:06 | 2 |
| 438 | Rose | Young | F | 15-19 | 2014 | Full | 4:58:37 | 1 |